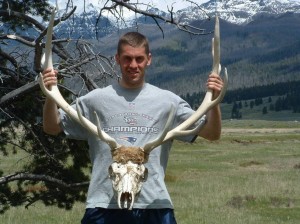 Welcome to my website, My Yellowstone Experience. In the Events section of my sister (Eastern Coyote Research) webpage, I describe the PowerPoint slideshow that I offer based on my many visits to the world's first national park (established in 1872). This talk, "My Yellowstone Experience: A Photographic Journey of the World's First National Park", describes the unique geology and hydrothermal features, as well as the spectacular scenery and wildlife that lives there. In the presentation, you'll see photographs of elk, bison, bighorn sheep, black bears, grizzly bears, coyote-badgers, and wolves, along with the park's unique geology and scenery.
            In addition to the talk that I offer, I have a book available with the same title. The best place to buy this book is on my Eastern Coyote Research store tab!
            If there could be a polar geographic opposite to Yellowstone National Park located mostly in Northwestern Wyoming, it would be the flat coastal region of Cape Cod, Massachusetts where I am from. While in graduate school, however, I supplemented my knowledge of eastern coyotes/coywolves by visiting Yellowstone on several occasions and observing the famous and popular coyotes and wolves (and other wildlife) that live there. I have met some great people along the way. Amazingly, some wildlife watchers (a generic title to folks that spend lots of time looking for wildlife in the park) spend months at a time in the park and/or use all of their free vacation time to come to Yellowstone multiple times per year. This website is a tribute to the remarkable people, geology, animals, and scenery that make Yellowstone so spectacular. I particularly would like to thank Steve Cifuni, my friend and frequent traveling companion to Yellowstone. Steve and I literally shared cameras and gear during our weeks together. Additionally, I would like to thank Rick McIntyre and Laurie Lyman for greatly facilitating wolf (and many other species) watching when I am in the park.
            So, relax and enjoy the pictures and accompanying text as you take a voyage on "My Yellowstone Experience"! I hope you enjoy "My Yellowstone Experience" as much as I do. Maybe I'll get to see you in Yellowstone one day!
Please consider donating to support "My Yellowstone Experience". Thank you for your kindness. If you feel uncomfortable donating online, then please email me (Jon) at easterncoyoteresearch@yahoo.com and I can provide you with a postal address OR you can send money for free (no fees on either end) in PayPal by going to Tools then Send Money and send it from bank acct to bank acct using my email address (easterncoyoteresearch@yahoo.com). This will also save me from PayPal charges which is about 4% of a transaction. Thank you in advance for your kindness.
          Biographical sketch 
Jonathan (Jon) Way has a B.S. (UMass Amherst), M.S. (UConn Storrs), and doctorate (Boston College) related to the study of eastern coyotes/coywolves. He is the author of 2 books: Suburban Howls, an account of his experiences studying eastern coyotes in Massachusetts, and My Yellowstone Experience, which details – in full color – the spectacular wildlife, scenery, and hydrothermal features that can be found in the world's first national park. Jon founded and runs his organization, Eastern Coyote/Coywolf Research, where he is continuing his goal of long-term ecological and behavioral research on coywolves. He also supplements his research with regular trips to Yellowstone National Park. He is seeking a publisher for a 3rd book project of his: "Coywolf".
            E-mail for contacting Jon: easterncoyoteresearch@yahoo.com
(From top to bottom: Canyon Wolf Pack beta male faces bison which he later killed, Grand Canyon of the Yellowstone, Grand Prismatic Spring – picture taken from a top a ridge to the south, double rainbow in Round Prairie)